Alex Yates
Creative Director
Viet Ngo
Photographer
Manh Nguyen
Videographer
Manta Klangboonkrong
Thai Copywriter
Todd Wills
English Copywriter
Hoang Anh Nguyen
Digital Advertising Lead
Background
Embassy Room – Catalan Cuisine sits on the 9th floor of the stunning Park Hyatt Bangkok.
Floor to ceiling windows overlook the garden—which puts the "park" into the hotel name—and infinity pool, while abstract sculpture vaults high above the seating area. The open kitchen sits on an elevated little stage, and there, Chef Ferran Tadeo holds court.

At Fourdozen, we have had the privilege of working with some of the best chefs working in Asia, including Junichi Yoshida, who recently captured a Michelin Star for Koki Hanoi. Chef Ferran takes his place very confidently among them—not just the most exciting chefs in the region, but in the world. Catalan by birth and upbringing, Chef Ferran began his career working with the world-renowned Chef José Andrés in Washington D.C. before moving to Hong Kong, and finally Bangkok. The concept at Embassy Room – Catalan Cuisine is entirely his, and his menus offer a tasting journey through traditional Catalan dishes, innovated and elevated into something that is truly surprising.

But while these may be the dishes that Chef Ferran grew up with, our challenge was to communicate them to an audience of affluent Thais who had little context for the region of Catalonia. Was it Spanish food? Italian? Where exactly is Catalonia, and why should they care? Add to that the fact that while the concept of the restaurant is entirely new, it still retains the name "Embassy Room" that it has had since the hotel opened. So our work was not just to introduce, but to reintroduce.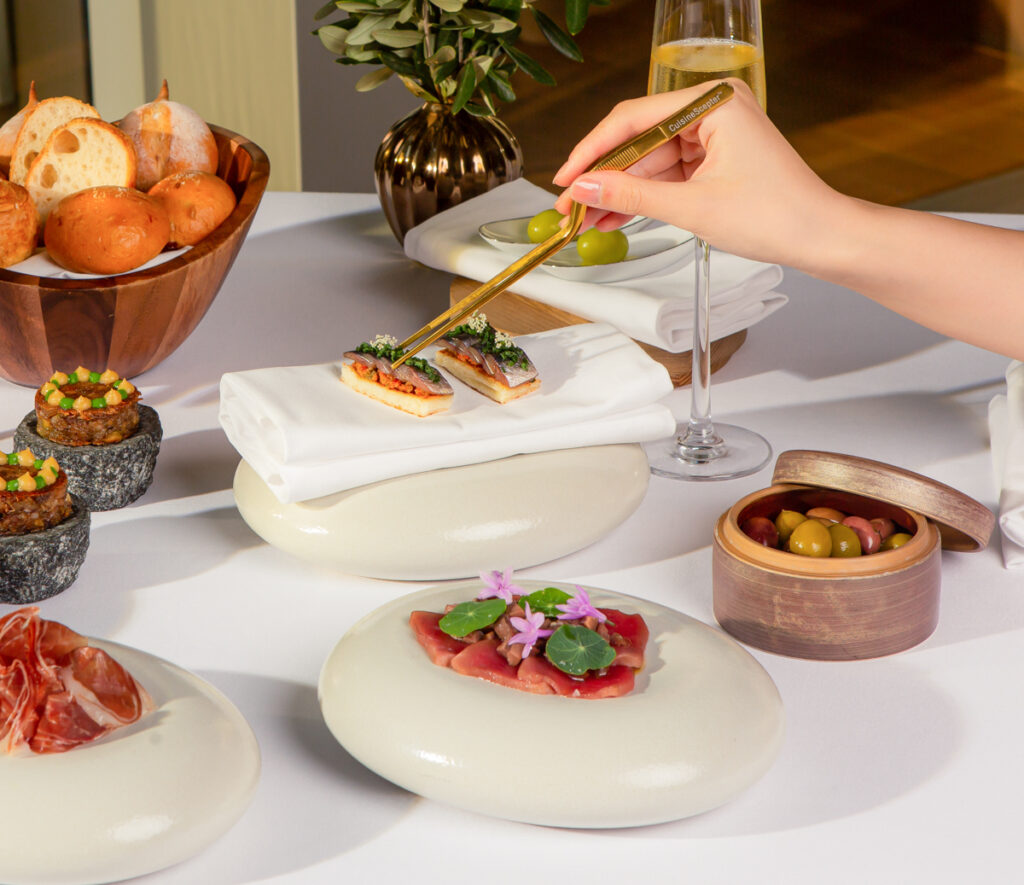 Our Approach
Mastering the material for ourselves was our first step. At Fourdozen we are a jolly band of foodies, but Catalan cuisine was new even to us, and our education started both in the restaurant and on our computers. Our team traveled to Bangkok to sample Chef Ferran's menu over a series of tastings, and sat down with him for in-depth interviews about his past, and his approach to cooking.
As it happened our work started just as Embassy Room – Catalan Cuisine was in the process of applying for much deserved recognition from the culinary community, and Fourdozen eagerly waded into this work, assisting with this storytelling to better internalize Chef Ferran's vision.Simultaneously, we needed to more fully understand not just Chef's techniques, but his inspirations.
We convened our creative team to give presentations on the various traditional dishes that Chef Ferran's modern takes are based on, and even retreated to our kitchens to cook them for ourselves.
There is no better way to understand the labor and joy associated with tomatoes stuffed with tuna than to engage in that labor for ourselves, and partake of that joy. And because food is an expression of not just a culture but also a landscape, our research extended to Catalonia—the very place we sought to introduce to our audience.
Our commitment to Chef Ferran was to provide him with storytelling worthy of any world class culinary publication, but this work can not be accomplished with words alone. To help visualize both the stunning dishes and the lively energy in the open kitchen, Fourdozen dispatched a team of multiple photographers and videographers, lead by Ngo Hoang Viet, who has Michelin-caliber experience and who has had his work displayed at the recent national Michelin presentation in Vietnam. This team is in the venue every month, capturing imagery and interacting directly with Chef as his menu changes with the seasons.
For a restaurant with such a clear vision, the work is truly a joy.
Our copy and imagery went on to form the posts, reels and digital ads that we produced for Embassy Room – Catalan Cuisine, reaching hundreds of thousands of Thais for the first time. It is truly a restaurant like no other, and if anything we hope that this work page can stand as some additional storytelling. The next time you are in Bangkok, reserve a table. You have never had a meal like this before.