Alex Yates
Creative Director
Chi Bui
Account Manager
Viet Ngo
Photographer
Background
Few Vietnamese brands are as beloved as Sơn Tinh. A forerunner of the now-booming Vietnamese spirits industry, Sơn Tinh has been a longstanding producer of award-winning natural rice, flavored with fruits and botanicals from across this beautiful country. But as pandemic lockdowns began to end, the brand found itself in a new and unfamiliar position. How would they connect with an audience that was starting to return to pubs and bars? How would they move product among a younger generation of drinkers, who were now getting accustomed western spirits—many of which were also being brewed and distilled in Vietnam? And perhaps most importantly, how would they stand out in a marketplace that is, let's face it, just a lot cooler and more sophisticated than it was when they started operating. To help answer these questions, and give the brand a refresh, Sơn Tinh turned to Fourdozen.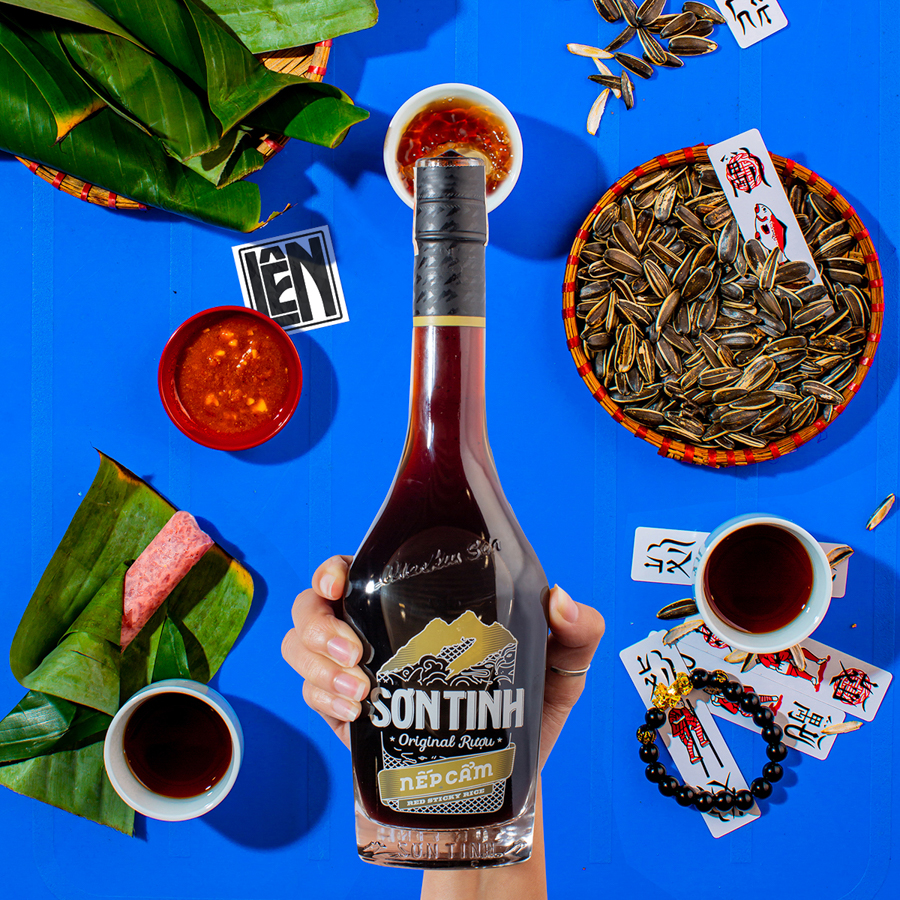 Our Big Idea
The writers on our team like to imagine that it's the language that comes first. That isn't always the case, but for this project it was. Before we generated moodboards, before we etched a single design or snapped a single photo, it all started with one word—the simplest slogan we've ever come up with. Lên.

Lên means go up. Lên means rise. Lên means to increase—your happiness, your expectations, your bravery, your effort. Lên is the simplest way to say "cheers" in Vietnamese. One person at the table lifts a glass. "Lên", they say. Glasses come up. Drinks go down. Lên became the core to our approach, and content themes, where were situated around ideas of rise and increase. Get happier. Get bigger. Get cooler. Get loud.
While this slogan set the stage for our creative approach, innovative photoshoots and graphic design was what crystalized it. One of our primary goals was to capture not just the fun of this uniquely Vietnamese spirit, but also its versatility—a bottle of Sơn Tinh rice wine would fit in just as well on a bartop as it would on a backyard picnic bench. We accomplished this with a series of staged action shots featuring settings, bottles and spirits pouring into glasses. Shooting everything directly from above, this allowed us the freedom in our graphic design to create composite images and videos that could show any one of Sơn Tinh's 14 flavors situated on an endless number of meticulously staged backgrounds. Each image you see here is the result of at least three, and painstaking graphic design.

As a final touch, we distributed little "Lên" easter eggs throughout the images. Take a look. Can you find them?