Alex Yates
Creative Director
Emma Krueger
Account Manager
Hoang Anh Do
Junior Account Manager
Thu Vu
Illustrator
Background
Packaging is all around us, but is often invisible. It keeps our goods safe for shipment and storage, and provides us with a convenient, on-the-go way to consume our food. We're grateful for the corrugated cardboard cup that keeps our hands from getting burned by the hot coffee inside, but we're dismayed when we see the same cup littering the side of the road. Packaging, central to our lives, became even more important during the COVID-19 pandemic, when delivery (of goods in packages) was for many people their only connection to the outside world.
The Programme for the Endorsement of Forest Certification (PEFC) is working to help make packaging more sustainable, through supply chain certification that extends all the way back to the forests from which the paper pulp for packaging originates. As part of that effort, PEFC engaged Fourdozen to create a campaign to raise awareness about the importance of certification in the packaging sector, and to give them materials that they could use when making the certification pitch to packaging suppliers and end-users.
Our challenge was to come up with something fresh, based on PEFC's 3Rs — renewable, responsibly sourced, and recycled. It's a complex supply chain, with roots everywhere from nordic forests to recycling centers in east Asia. It was our job to pull that together into a single story — one that could make sense to the broad public, without oversimplifying.
Our Big Idea
As part of the project, we presented a number of competing creative routes, ultimately settling on the tagline "Responsible Packaging" which, for PEFC, was simple, clear and most importantly, evocative of the 3Rs without muddling the message.
What distinguished the campaign was its design concept, created by Fourdozen's lead illustrator Thư Vũ. All visuals for the campaign use a collage motif, with subtly layered pieces of colored construction paper pasted together in a way that is instantly recognizable to the audience. Each image uses a package as its key visual, with rays of light shooting upwards and outwards to reveal a background of forests and trees. The idea being that when paper packaging is certified, it can contain a whole lot more than just products. Inside that box or bag are improved livelihoods for independent foresters, reduction of illegal logging, protection of vulnerable species and ecosystems, and increased resilience to climate change.
This striking visual identity was central to everything we created, from pitch decks to social media infographics to motion graphics in videos. These collages harken back to a childhood spent holding scissors with glue-sticky fingers, when we let our imaginations run wild. Indeed, the images are an unfolding of different forest vistas, connected clearly with packaging through the layers of fuzzy, hand-cut construction paper.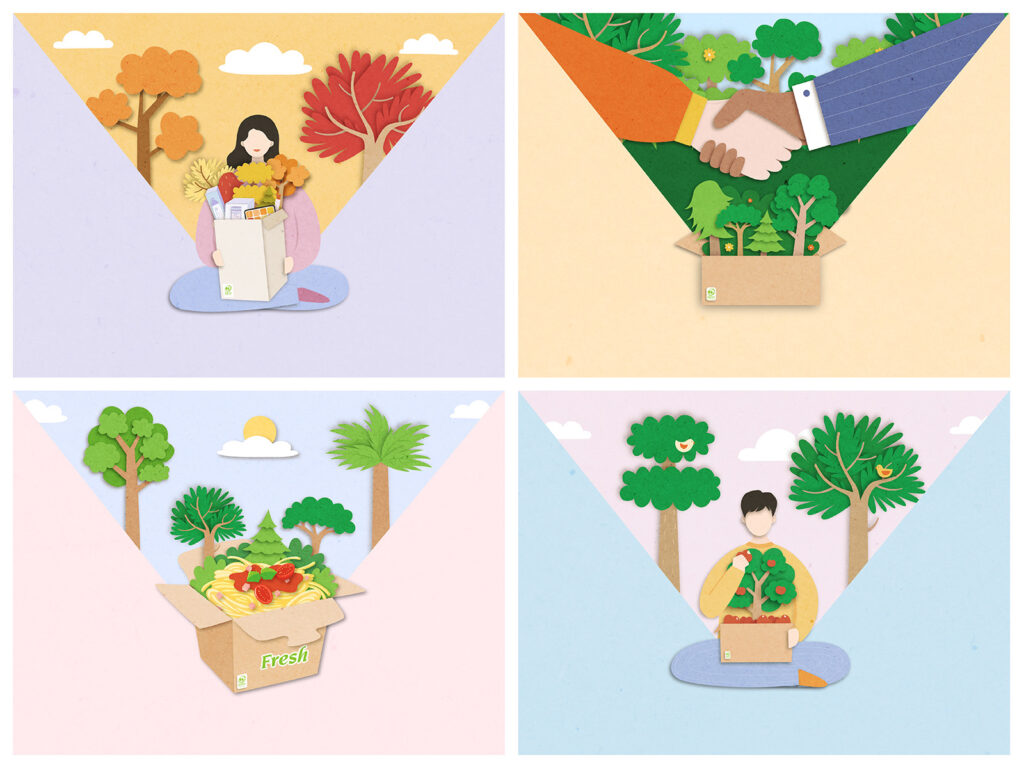 Results
This campaign for PEFC was able to provide enhanced brand storytelling, an inclusive, modern approach to sustainability, and demonstrate a commitment to the long term viability of forests. Most importantly, for PEFC's audience of supply chain actors (from manufacturers to forest smallholders and retailers), the campaign provided peace of mind that PEFC certification is independent, rigorous and transparent.